As one of the few Estate Wineries in Northern New York, our wine's quality is unprecedented.
Our 12 acres of cold-hardy grapes are hand-maintained by local employees – not machines. We believe in authentic winemaking, limiting our production to the varieties that grow in our northern climate. Tug Hill Vineyards, now in the 12th year of grape growing, produces wines that are truly a local product.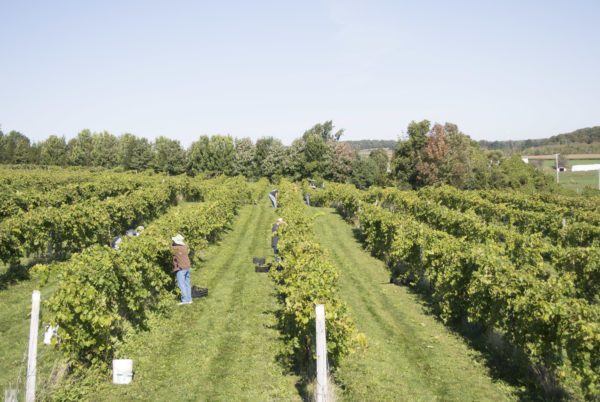 FREE Case Shipping
$10.00 off 6 Bottles Shipping
$5.00 off 4 Bottles Shipping
Tug Hill Vineyards
Tug Hill Spirits
Launched in 2017, our Distillery has quickly become a leader in small-batch Spirits.
Producing a premium American Brandy, 5 times distilled and carbon filtered, our Liqueurs are some of the smoothest you'll find in New York. As always we source all-natural local products, no artificial additives here. Stay tuned in the coming months as new products are released!
Apple Pie Liqueur
Artisinal and all-natural, distilled from New York Apples pressed at Burrville Cider Mill, flavored with apple wine, cinnamon, allspice, and nutmeg. This Liqueur burst with a freshly baked pie flavor.
46 Proof
23% ABV
Toasted Maple Liqueur
To make this intriguing spirit, we distilled our estate grapes, aged the brandy in oak, and sweetened it with locally sourced maple syrup. Bold and smooth with just the right amount of sweetness.
46 Proof
23% ABV
Blueberry Liqueur
Featuring our estate grown blueberries and flavored with Tug Hill Vineyards Blueberry wine, this liqueur has true flavor. Excellent for those who like subtle sweetness and natural flavor.
46 Proof
23% ABV
Questions? Concerns? or just need help Ordering?
Give us a call at (315)-376-4336 or send a quick email using the form to the right.
Email our Sales Coordinator
Merchandise
Tug Hill Vineyards' Wine Cellar offers an array of unique seasonal gifts. Hand painted wine glasses, totes, cooking accessories, wine racks, hats, and casual clothing are just a few of the items you will find on display. We also offer a selection of local cheeses and crackers available for a snack with your wine.
Tug Hill Vineyard Wine Club
Exclusive access to early release products, wine discounts, and a 50% shipping discount! Sign up today!
Gift Cards
The perfect way to "gift" for every special occasion, friends, relatives, co-workers and on and on. From amounts of $5 and up we can sell them over the phone or in our wine cellar.
To purchase, please call: (315) 376-4336 or email: orders@tughillvineyards.com